The Twitter Phenomenon
I am a bit of a internet addict/techie/trend lover, I confess.  In the early 90's I already was on the BBS before it became the World Wide Web! I had an email address that I don't even remember than. So when I hear about something new, I want to check it out.  I heard about Tweeter and was not too impressed initially. I thought to myself: what's the attraction? Isn't Facebook good enough? Who cares about short messages? 
Being the trendie lover I decided to give it a try. Ok, so this is a mix between text messaging and social networking websites. I started sending some tweets, especially when I am waiting for something somewhere and trying to fall asleep while having my addiction, oops, my iPhone in my hands.
I realized that Twitter is like sending text messages to all your friends at the same time instead of only one. And I also realized that there is a responsibility with what you say, because you can get in trouble with impulsive messages sent in moments of anger, spite or cattiness.
The last thing I would do is add that to my cell. Who wants to get messages from several people all day long? Most of them silly like "I am going to take a shower"? Does Ashton Kutcher check messages from 1 Million people?
On the other hand, imagine the power it gives you to reach people. Ashton can get 1 M people listen to him extremely quickly. He can send vital information out asap. If I were the head the United States Homeland Security department, I would have Ashton working for me. For politicians, another invaluable tool. Get their message across.
It amazes me that the internet still has endless possibilities. When you think that everything has been thought of, there comes some new amazing tool. Twitter has achieved the maximum honor: to become a verb. People are "tweeting" like they are "googling".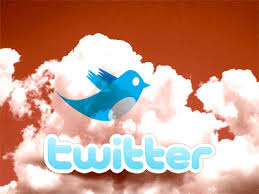 No comments yet.
Top Posts

Blogroll

Pages

Archives

Blogroll

Meta